Crane for Glass Handling – Effer Cranes
December 11, 2019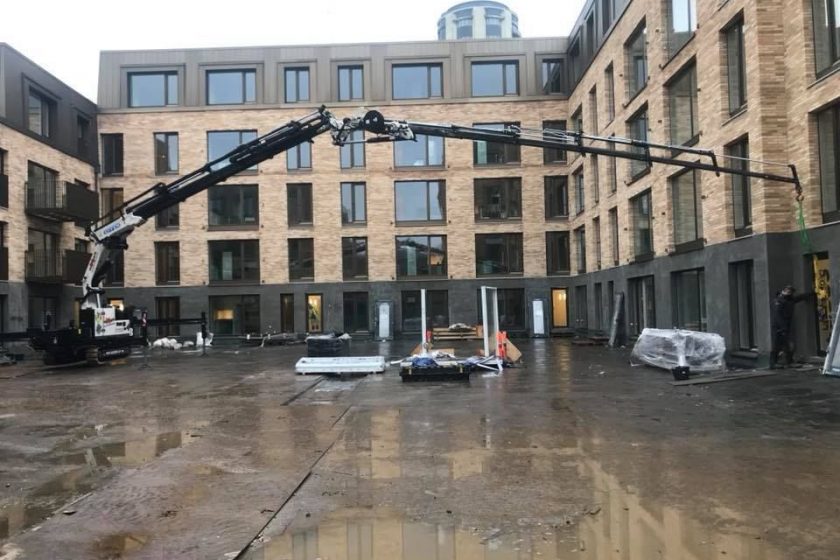 Handling and laying of plates and glass objects with cranes are jobs that require extreme delicacy and to the millimeter operator precision: even the slightest movement can cause breakage of the material.
To perform these operations safely, the experience of the crane operator is not enough: we also need a machine capable of gentle movements and maximum precision. Effer Cranes make use of electronic management systems Progress, Progress 2.0 and DMU 3000 Plus to ensure the best results during the handling of fragile objects.
Lifting and moving glass with Effer cranes is quick and easy: in just a few minutes they are operational, have considerable space and payload thanks  to their compact, lightweight structure and perfectly match suction cups available on the market allowing  you to work safely. It is possible to use the suction cup with the Effer winch for maximum versatility, or with the system Wind & Drive that allows you to close the crane with the winch attached at the end of operations without having to assemble and disassemble all the components every time.
Effer cranes are the optimal tool to handle and lay glazing: precision, delicacy and fluidity of movement are fundamental when you have only a few millimeters of tolerance for the mounting of windows within a frame because the slightest contact with the window frame can destroy the plate.
For this Effer has patented solutions like Pro.Dec (Progressive Deceleration System), which uses internal hydraulic shock absorbers at the end of each of the hydraulic extension cylinders. In this way load swinging  is considerably reduced, collisions between the jacks in opening and closing  are eliminated and this means much safer and effective working
As part of handling glass, the corners of the crane boom and jib make the difference: Effer is also famous because its cranes work with negative angles while maintaining outstanding performance and allowing you to get to where many have to stopContact Cranetech Australia for me information about any of our Effer Truck Mounted Cranes.