Effer 175 – Light Effer Crane – Easy to use and Ultimate Blend of Power and Performance!
January 9, 2019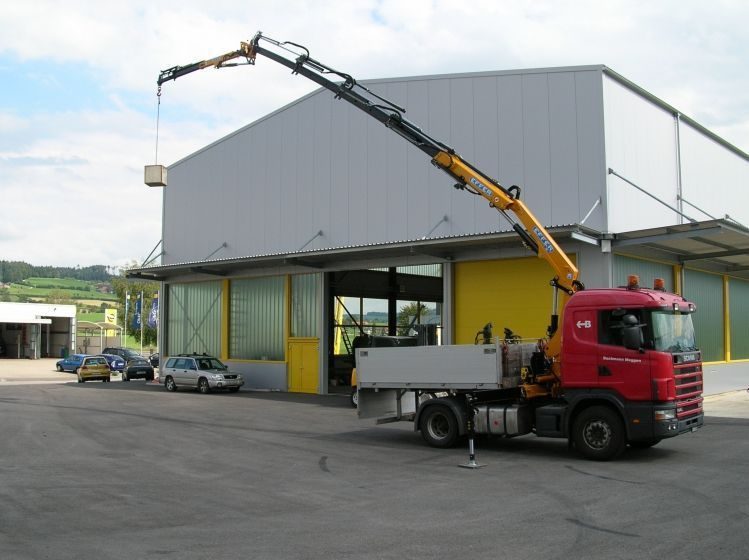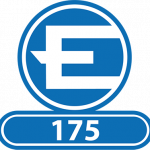 Effer 175 model is the part of the small crane range of Effer. It belongs to 2 to 10 txm lifting class. Effer 175 model is an easy to use model and it is indeed an ultimate blend of power and performance!
Though this is the light series model, its materials and design are similar to big and medium Effer cranes to ensure better performance for any type of work which clients expect from the light cranes.
Why E 175 is one of the most preferred choices among Light cranes segment? Because E175 is:

Light and Powerful similar to other Medium/Heavy Effer Cranes
Having the most suitable rotation for every need, it's Rack and Pinion system!
Having excellent stability, thanks to Effer's optional base, CroSStab and V-Stab.
Having a solid combo of speed, precision, and effectiveness because of Effer hydraulic system.
Stronger and Further because of the second boom and Effer extensions
like Having everything under control, always because of Technical possibilities of DMU 3000 Plus
Immediately operative because of Wind & Drive system and Effer winch.
Standard (inbuilt) features include:
Hexagonal Boom Profile

Slewing by rack

ETL (Effer Twin Links)

Data Monitor Unit (Electronic Crane Control)

High-Speed Systems (Increase speed of extension cylinders)

Proc. Dec. System (Cylinders with the progressive stop at the end of their strokes)

Oil Cooler

Sequence Valves

Fly-jib articulating for more than 180 degrees

Outer boom articulating for more than 180 degrees

Radio Remote Control

Stabilizers with the manual outlet

Swing-up stabilizers, manually activated

Mini ESS (Effer Stability System)
Optional features include:
Stand up operator platform
Stabilizers with Hydraulic outlets
Wind & Drive (Crane foldable with the fly-jib on, without removing the winch components)
Winch
C Version
Technical DataSheet for 175 Light – Effer Truck Crane
DESCRIPTION
UNIT OF MEASURE
1S *
2S
3S
4S
5S
6S
Maximum horizontal hydraulic outreach
m
6,39
8,32
10,40
12,53
14,75
16,72
When maximum lifting (+ 20 °)
k gm
15720
15260
14970
14570
14170
13880
kNm
154.20
149,70
146.90
142.90
139.00
136,20
Rotation angle
(°)
400
Rotation capacity – Maximum slope
%
8.7
Operating pressure
bar
350
Recommended oil flow
l / min
70
Oil tank capacity
the
80
Weight standard crane (± 2%)
k g
1715
1855
1985
2110
2220
2305
Dimensions for 175 Light – Effer Truck Crane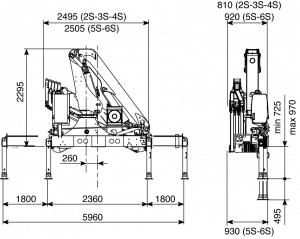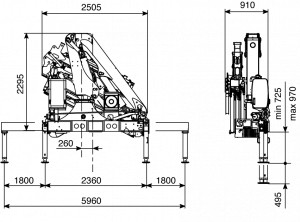 Cranetech is proud distributors of Effer 175 cranes in Perth, WA. Our expert team at Cranetech will be able to help you with all your light crane needs. Our team has extensive experience and will be able to recommend the right equipment for the job. Please
check out our Light Effer Crane's page
 to learn more about light Effer cranes and feel free to
contact our sales experts
to find the right crane for your business needs.