Stellar 9000 AG OTR tyre service truck
June 8, 2018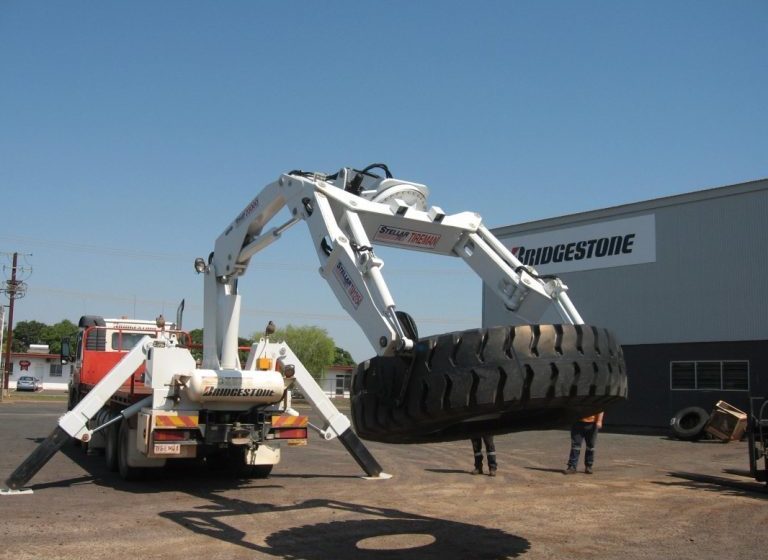 For industries involving large-scale heavy vehicles, Cranetech's range of Tyre Service Trucks by Stellar Industries is an essential addition to the service fleet.
Stellar Industries have been producing high-quality tyre handlers for over two decades, starting from humble beginnings with the hydraulic hook-lift. Since then, they have produced a wide range of different models of tyre handling equipment as well as tyre manipulators.
The Stellar 9000 Large OTR (Over-The-Road) Service Truck is a hydraulic tyre handler that can safely lift up to 2300kgs with a maximum clamping span of 2790 metres. The unit also has 285 degrees of body rotation and 140 degrees of articulation, pad rotation and radio remote control. This allows the operator to work in a variety of conditions while still working in a safe, efficient manner. The variation of clamping distances gives the 9000 OTR series the ability to service fleets with small to medium sized OTR tyres.
Cranetech fitted its first Stellar OTR 9000 Tyre Handler in 2005. Due to the quality, strength and reliability of the product sales have continued to grow, indicating that it is a popular choice in today's market.
Stellar Tyre Trucks use state-of-the-art design and materials to produce the most modern design tyre handlers available on the market. Visit our website or contact the team at Cranetech to see our range of Stellar tyre handlers.
Service Body Features
Heavy-duty steel construction
Flat body has eight (8) D-ring tie downs
Stainless steel rotary slam latches
Slide top doors on all tool compartments
Recessed, skirt-mounted halogen floodlights
Rubber-mounted running lights
Entire body is undercoated
Stellar Tyre Handling Features
Rotation is accomplished through a turntable bearing
Fully proportional radio remote control
Fully enclosed extension boom cylinder
Hexagon-shaped secondary and extension
Integral-mounted pump and PTO on chassis
Load-holding counterbalance valves